Novo Optoelectronics offers complete solutions for LED lighting applications
Low-Carbon Lighting & Technology Co., Ltd., a company specializing in R&D and production of LEDs. Low-Carbon (low-carbon) is dedicated to the research and discovery of low-carbon, environmentally-friendly LED high-tech materials and energy-efficient technologies for the increasingly severe greenhouse effect, energy crisis and pollution problems. In the new year of 2010, LED lighting products with functional and design sense will be launched. There are various series such as ceiling lights, flat lights, T5/T8 fluorescent tubes, landscape lights, mining lights, tunnel lights, low-carbon high-efficiency street lights, etc. Lights are available for selection. At present, many products have been widely used in commercial lighting, home lighting, landscape lighting and lighting engineering, etc. Customer feedback is very good! The photo-fading of Noco Optoelectronics is almost zero, and the color rendering is basically unchanged. At present, China has Engaged in several large engineering projects.
Liu Jiafa, chairman of Novo Optoelectronics, said that the streetlight products are taken as an example, and the unique low wind resistance design is adopted, and the combined heat dissipation module can be arbitrarily assembled and disassembled. The application is very convenient. There is a flow channel design in the lamp body, so that rain, sand and other debris are not easy to accumulate. In addition to functional considerations, Novo Optical Circuit Lights emphasizes aesthetic design and has a unique streamlined shape. It is expected to inject a stable, long-life, optimal brightness, energy-saving and environmentally-friendly product for urban lighting. The corporate vision of the low carbon life of the Earth.
Novo Optoelectronics launches streetlight products with both functionality and design
Recently, the LED lighting market has been detonated, and all walks of people have rushed into it. In order to develop steadily in the field of lighting, Noco Optoelectronics has long sneaked into R&D for a long time, and hired domestic senior engineers to try to use the Chinese market as the starting line and formally cut into the field of LED lighting. As early as in many key areas of domestic key breakthrough project special bidding, LED lighting fixtures unique heat dissipation technology and efficient power conversion technology won the bid.
In 2010, Noco Optoelectronics launched a series of high-power LED "mini ceiling lights" products, which use imported chips, natural heat dissipation packaging technology and scientific secondary light distribution, without any heat sink, is the only one in China. LED lighting manufacturers with this technology; through the detection of a number of quality testing centers, first get a lot of golden keys to the lighting field.
Liu Jiafa, chairman of Novo Optoelectronics, said that Nuoke Optoelectronics can affirm through multiple rigorous tests, all because of the long-term focus on quality. With the market's long-life requirements for streetlights, Nobel's outstanding performance in brightness, heat dissipation and optical design is also an important reason for delivering brilliant transcripts. In the midst of a wave of lighting, many manufacturers are rushing into this market, and these performances, as well as the vertical integration resources they have, will be a powerful backing for future long-term battles.
In the field of lighting, Novo Optoelectronics has always adhered to the concept of "low carbon, energy saving, environmental protection, stressing the world energy crisis for white heat, and striving to contribute to the creation of a harmonious earth", relying on science and technology to survive by quality. With the credibility and development, and constantly develop and innovate, I believe that the pursuit of the most suitable light source is a way to bring comfort and beauty. In the field of architecture and interior decoration, and even road lighting, if too much light is used, not only the aesthetic appeal is lost, but also light pollution may be generated, which affects the comfort and even safety of people's horizons.
Such concepts and appeals have made Nuoke Photoelectric's dedication and thoughtfulness in the development of new lighting products. Convinced that "people" is the ultimate benefit of LED lighting performance, while studying the technical aspects, do not forget to listen to the real voice in the market. In the development of related LED lighting products, in addition to the technical part, it also fully focuses on customers. The demand of the end, eager to truly bring more wonderful world through LED high-tech products.
Supply and contact
Dongguan City Noco Optoelectronics Technology Co., Ltd.
Telephone 81589277
fax
Contact: Mr. Chen

Irregular Shape Led Display is mainly for bar, night club, Outdoor Signage and advertisement, Entertainment centers, Building facilities, Community centers, Amusement parks and other places of different indoor customized design project. It can be transformed into surrounding,curved,surrounding a cylinder or on a wave surface.Circle LED Display , Square led display.Four sides/ Eight/ Six sides led display.The cabinet can be any shape to meet irregular locations and special surroundings. Every design are consist with each pcs of individual modules,which you can make the shape as you prefer..Viewing angle:Whether horizontal or vertical,it can maintain a wide viewing angle of 140 degrees to guarantee viewers` s viewing effect.
The led display has some protection functions of anti-high temperature, Anti-corrosion, pest control, waterproof, dust-proof, lightning protection, anti-static, wind, earthquake, anti-jamming systems.
Rich play forms:Event videos, text, message, replays, animations are a part of the giant LED screen installed in indoor or outdoor place. You can choose the different forms.
High uniformity:The Indoor Led Display obtains a gray scale of 16 bits as well as a refresh rate of 1,500 Hz. Advanced technical guarantee the picture fidelity.
Advantages
1. Any direction, any size, any shape can be jointed presenting perfect seamless visual effect.
Adjustable high brightness will not affect by the ambient light strong display.At the same time, it can also play the role of environmental protection and energy saving.
2. LED video screen with die-casting aluminum frame design, screen is super light and thin, saving space and costs, fashionable and beautiful;and it could also improves the heat dispersion, prolonging the lifetime of the led display.
3.Due to the appearance and structure of LED irregular screen are different, the technical requirements of the manufacturer are more strict, and the appearance of the irregular LED screen have better modeling ability,for spherical, diamond, gemstone, other regular or irregular geometric Led Display Screen.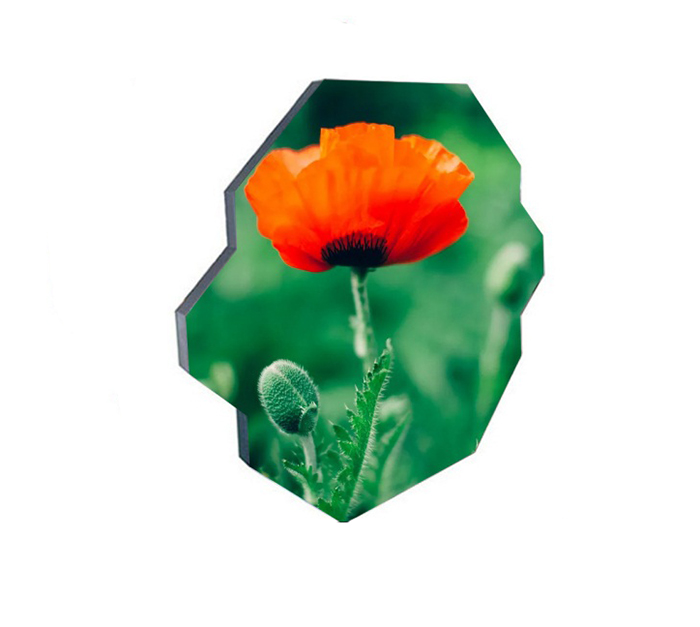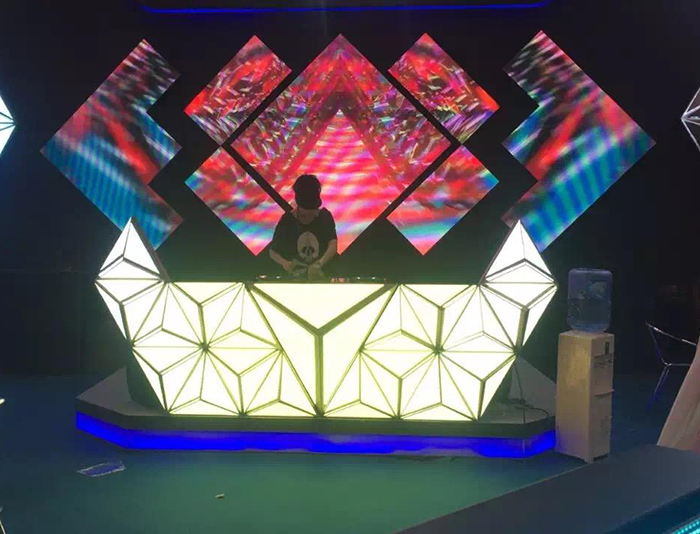 Irregular Shape Led Display,Customized Led Screen,Round Shaped Led Display,Irregular Shape Led Screen
Shenzhen Bako Vision Technology Co., Ltd. , http://www.rentalleddisplays.com