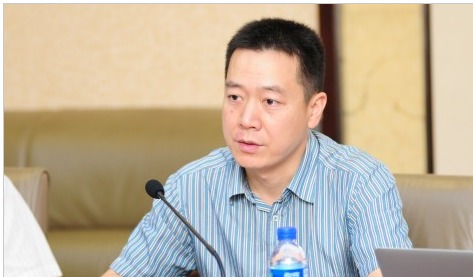 interview target:
Lu Kai Professor of Computer Science, Doctoral Supervisor, and Deputy Chief Designer of Tianhe High-Performance Computer System Zhu Xiaoqian Researcher at the Computer College of the National University of Defense Technology and Deputy Chief Designer of the Tianhe High-Performance Computer System Ling Qi Intel (China) Co., Ltd. Director of solutions of China Qiao Nanying Intel software and services Group company customer response team manager <br> <br>
Foreword

In June this year, a major event occurred in the supercomputer field. In the performance ranking of the global TOP500 supercomputer updated on June 17, Tianhe-2 of the National University of Defense Technology ranked first in the world in performance testing. Tianhe-2 is also a mystery supercomputer. It has rarely appeared in the media, and it has always maintained a low-key style after it topped the list. However, the low-key is unable to deal with professional "magical", especially the Tianhe 2 is the first to use the Intel Xeon Phi coprocessor program supercomputer, just one trial to defeat multiple heterogeneous computing solutions. What exactly is Tianhe 2? In what field will it play a role?
After the release of Tianhe 2nd, unlike the high-profile release of previous supercomputing products, the media did not stir up Tianhe 2 and many of the key information of Tianhe 2 was not disclosed. It can be said that the top 500 has been listed since June. Keep it mysterious.
Now, on a fortuitous occasion, we had the privilege of interviewing two key figures responsible for Tianhe 2nd R&D: Professor of the School of Computer Science and Technology of the National University of Defense Technology, Ph.D. Supervisor, Prof. Lu Kai, Deputy Chief Architect of the Tianhe High Performance Computer System, and National Defense. Mr. Zhu Xiaoqian, a researcher at the Computer College of the University of Science and Technology and deputy chief designer of the Tianhe high-performance computer system. This is the first time that the core R&D personnel of the Tianhe 2nd debuted before the media. Through the introduction of two deputy chief designers, Tianhe 2's more details and many doubts about Chinese supercomputers have finally been solved.
Supercomputing with life close at hand

A supercomputer is a device that sounds very remote from our lives. However, supercomputers are closely related to all aspects of life. For example, one of many friends' favorite snacks is potato chips. There are many branded and flavored potato chips sold in various supermarkets and convenience stores. However, potato chips are very fragile snacks. How do food manufacturers develop packaging that keeps chips from being squeezed? This is one of the contributions of supercomputing to our lives. In our lives, supercomputers contribute in all aspects, but we never feel that they exist.
Supercomputers, as the name implies, must have strong computing power. Therefore, supercomputers are commonly used in scientific research fields such as protein folding and simulation of the evolution of the universe. These aspects are natural for the Tianhe 2 as the current TOP500 champion. However, the practical application of Tianhe-2 is not so simple. Compared with traditional supercomputers, Tianhe-2 is a multi-faceted supercomputer. In the design of architecture and technical solutions, designers have done a lot for Tianhe-2. Customized design, so in addition to high-performance computing, it also takes into account the needs of the current hot applications such as information processing, data analysis.
As mentioned above, Tianhe-2 is a "multi-facet" in the super-calculation. In what areas will the world's number one supercomputer play a role? According to reports, Tianhe-2 is currently being placed at the National University of Defense Technology. Currently, the Guangzhou Supercomputer Center is stepping up construction. It is expected that Tianhe-2 will be settled in Guangzhou by the end of the year to provide services for the e-government of Guangzhou City and the information construction of the entire South. In addition, it will provide servers for users in many fields such as scientific computing and application computing, and will contribute to energy, genetics, and climate.
The advantages of micro-isomerism are inherent

The application of Tianhe 2 is very extensive. It is thanks to the advanced architecture design of Tianhe-2 and Intel's unique "micro-heterogeneous" solution. The new structural design has changed the structure for high-performance computing, and has adopted a heterogeneous multi-state solution. This not only meets the traditional application requirements with computing as the core, but also focuses on IO as the core and small- and medium-sized IO processing. Many of the core application areas also provide good support. In terms of storage design, Tianhe-1 has accumulated successful experience. At the same time, the R&D team has borrowed many successful concepts from home and abroad to make Tianhe-2 a storage system. Both scientific computing and big data information processing are taken into account. On this basis, the R&D team of the National University of Defense Technology provides an excellent hardware and software platform that allows partners and users to fully tap the potential of Tianhe-2.
For the super-computing architecture, we have questioned the current hot heterogeneous computing in the previous article "Supercomputer List or Resolving the Reshuffle of TOP500 New Rules." Professor Lu Kai, deputy chief designer, said that Tianhe II is not using the traditional CPU + GPU heterogeneity. Instead, it uses the unique "micro-heterogeneity" of the new Intel Xeon processor and the Intel Xeon Phi coprocessor. Architecture, compared with the traditional heterogeneous, this micro-heterogeneous solution due to the very similar structure between CPU and Xeon Phi, both the processor micro-architecture and the instruction set have a lot in common, so the parallel operation is more efficient The development environment for scientific researchers is more friendly and the compatibility with third-party applications is also better. This is a unique advantage that traditional heterogeneous architectures do not possess.
At the same time with higher computing performance and better system architecture, Tianhe 2 also incorporates a large number of independent research and development elements. For example, in terms of transaction processing and information services for supercomputers, Tianhe-2 uses a China-developed FeiTeng microprocessor, and R&D personnel fully cooperate with each other to optimize the software and hardware according to the scale and application requirements of Tianhe-2. Make Tianhe 2 able to meet the needs of future larger-scale system construction. For example, in terms of system management, with the excellent hardware platform of Feiteng processor, Tianhe II has realized intelligent management, which is the so-called "machine management machine". The entire management system can detect faults in time and perform corresponding diagnostic processing, greatly reducing Maintain the supercomputer's work intensity. For another example, in terms of ease of use, the parallel programming model OpenMC provided by the R&D team has unparalleled advantages. OpenMC can adapt to a variety of accelerators. In the future, if the application software's working environment changes, such as the need to run on other accelerators, or meet Intel's changes to the product accelerator specifications, you can also get the code without changing the code Maximum performance.
Twenty years of hard work

Speaking of the achievements of Tianhe II, the two chief designers are frankly not an easy task. The pace of deployment of Tianhe II was very tight. It began to deploy from April and submitted Linpack calculation results in June. It was installed and debugged and optimized in just two months, and it was the first in the world. It looks like a miracle. Professor Lu Kai does not think so. He admits that he can quickly complete the benefits of Intel architecture's features in deployment, and the "micro-isomerization" optimization is relatively difficult and the process is controllable. It seems that this new architecture not only brings convenience to users, but also brings great convenience to the hardware R&D team.
On the other hand, Tianhe 2 can reach today's height, and it is not an overnight event. Prof. Lu Kai said that there were Tianhe-1 and other domestic supercomputers with excellent performance before Tianhe-2. The emergence of these supercomputers has accumulated much experience for the development of Chinese supercomputers. It is with the experience accumulated by these predecessors that Tianhe 2 can only reach the top position of TOP500. In addition, prior to April, the entire R&D team did a considerable amount of preparatory work for Tianhe 2 so that it could achieve such rapidity during the implementation of the project. So no matter from which angle, Tianhe No. 2 won the first place in the world in just two months. This is wrong.
Similarly, China will have more supercomputers with better performance in the future, and Tianhe 2 will also accumulate more experience for the development of future supercomputers. With the continuous expansion of supercomputers and continuous improvement in performance, the technical problems and performance bottlenecks to be solved at different stages are different. For example, for a 5,000-node supercomputer, we may consider how to maximize the computing power. When the future supercomputer has 10,000 nodes, we may need to invest more R&D to solve the refrigeration problem and energy consumption. And system scalability issues. Even in the current situation there are many difficulties to overcome, such as how to make supercomputers more reliable? The scale and reliability of the system are inversely proportional to the increasing size of supercomputers, which means that reliability is constantly declining. How to detect faults, troubleshoot problems in a timely manner, and how to allow applications to tolerate a certain degree of failure are all plaguing scientists worldwide. The problem.
The National University of Defense Technology has a stable system and team. The National University of Defense Technology has a group of experienced researchers who have been working hard in the field of high-performance computing since the 1980s. Today, it has accumulated for 20 to 30 years. In the period of rapid development of Chinese supercomputers, for the Tianhe-2 R&D team, many of the possible performance bottlenecks are predictable and controllable. This is one of the important reasons why Tianhe II has such achievements.
In the face of doubtful many helplessness

While gaining great achievements, Prof. Lu Kai also showed some helplessness in the arguments of some media in the non-professional field.
Supercomputers not only serve the cutting-edge field, they also play a role in all walks of life and silently change our lives. However, many people do not know the meaning of supercomputers. For example, at the beginning of this article, a small package of potato chips was used as an example. Nowadays, the research and development of many products around us are based on supercomputers. Another example is how to design a safer car. If you don't use a supercomputer to simulate it, you will have to rely on manufacturing products, experiments, and improvements once and again. This will waste a lot of manpower and material resources, and the cost of research and development for many products will be pushed up by several times. Even dozens of times, these will ultimately be paid by the consumer.
While people enjoy the results of supercomputers at the same time, some people think that supercomputers have no use at all, they only have face-to-face projects, image projects, and even cause some non-professional media to bombard R&D supercomputers to waste human and financial resources. This phenomenon not only exists in China, Japan also encountered the same problem in the development process of the supercomputer "K Computer" (K Computer). Because the public does not understand supercomputers, research and development of supercomputers are considered meaningless by the Japanese people and the Congress. As a result, "Beijing" R&D was once suspended due to lack of funds, and there was even danger of cancellation. However, after weighing the pros and cons, Japan finally insisted on completing the research and development of supercomputers.
For China, the luckiest thing is that although there are doubting voices, it is not serious enough to really affect the R&D of supercomputers. And a supercomputer like Tianhe II not only has better performance than "Beijing" (peak computing power is five times that of Beijing), but also has a better development environment and wider use.
Independent research and development to catch up

In addition to the value of supercomputers, the wrong interpretation of "independent research and development" is also the focus of the most concentrated negative voice. When it comes to supercomputers, there has always been a view that "supercomputers are nothing more than money-burning hardware." However, our current factual situation is to review the entire TOP500 list. Not every country in the developed countries has the ability to "stack hardware". The only real attention in the field of supercomputing is the United States, China and Japan, and even the United States. In such countries, only a few companies have the ability to design supercomputers.
On the other hand, China's supercomputer not only achieved synchronization with the United States in technology, but also surpassed similar products in the United States several times in performance. In technology, China's supercomputers have also taken the lead in introducing heterogeneous technologies. Today, they are similarly the first to introduce "micro-heterogeneity" implemented by Intel Xeon Phi. In terms of independent research and development, China is also chasing it step by step. Tianhe-2 will introduce the domestic Feiteng processor into the field of supercomputers and independently develop a better compatible OpenMC programming model. Many similar independent R&D factors are applied to supercomputers and play an important role. Professor Lu Kai said this. "On the face of the challenge of 'heap hardware', we can only smile at it."
It is precisely because of the hard work of scientific researchers like Professor Lu Kai that our country's supercomputers can achieve the world's best results today. Supercomputers play an important role in all aspects of our lives, embodying the hard work of countless researchers. When Tianhe 2 was given worldwide attention, not many people even knew their names. Compared with personal glory, they hope that the public will understand that their efforts are valuable and hope that the public will know that supercomputers are of great significance to China's economic development. This is the driving force behind the continuous efforts of numerous scientific researchers.
This cable is one of the Control Cable and it is with OFC copper conductor insulated and sheathed by PVC material. This cable may be used in dry or wet places and widely applied to transmit and distribute low voltage electrical power, data or signal. there have optional choices of flexibility and screen material to fit for installation as request. Some control cables can bear larger mechanical forces. Some of them is with shielding and flame retardant performance.
Product features
Conductor: OFC
Insulation and jacked: PVC
Color: Black
Other component: Optional screen(braided or Cu)
Performance: shielding or flame retardant
Classification
1- Braided screen type
2- Copper screen type
3- Steel tape armored type
4- Flexible control cable
5- Braided screen flexible control cable
6- Fire retardant flexible control cable
7- Copper screen fire retardant control cable
8- Flame retardant steel tape armored type
9- Fire retardant flexible control cable
Application
The PVC insulated PVC sheathed control cable is suitable for patching of control, signal protected and measures systems with rated voltage up to and including 450/750V and 600/1000V.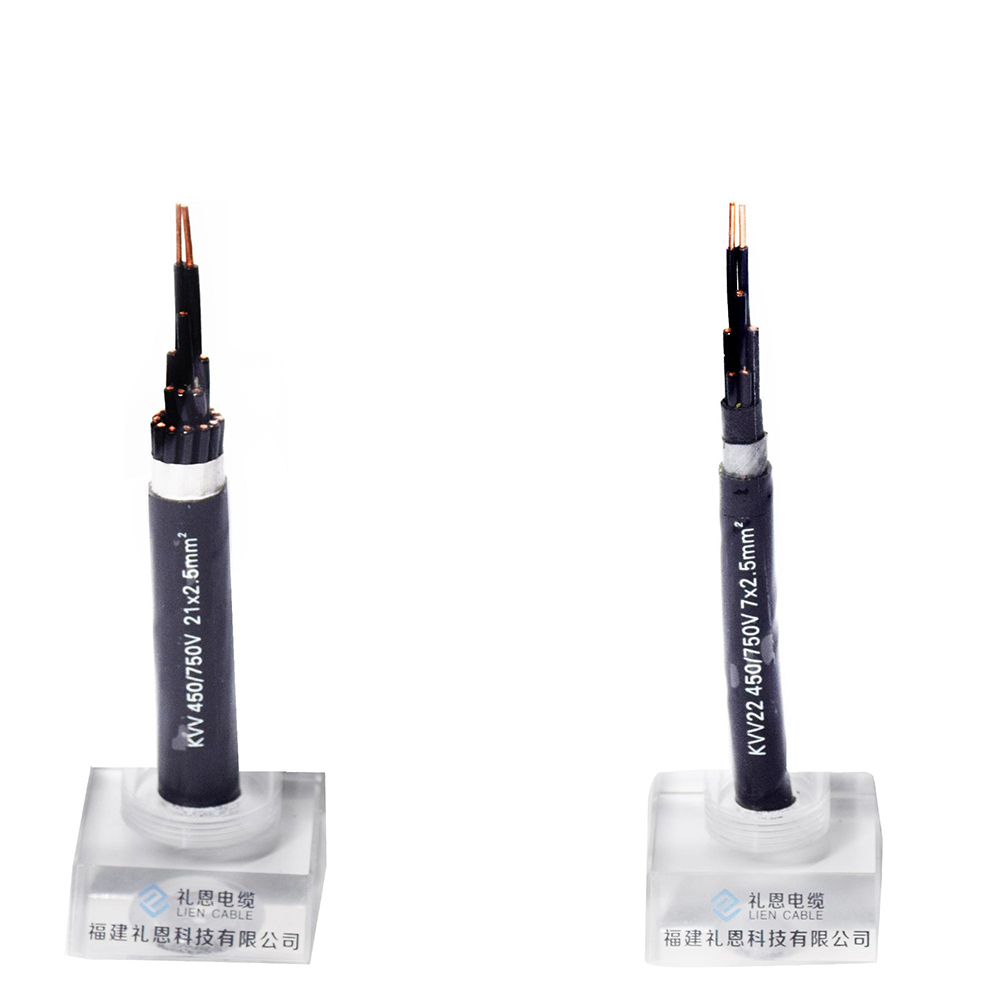 Using features
l Rated power-frequency rated voltage U0/U is 450/750V and 600/1000V
l Max. permissible continuous operating temperature of conductor is 70℃
l The ambient temperature under installation should not be lower than 0℃,if the ambient temperature is below 0℃, the cable should be preheated.
Why choose us?
l OEM service is available based on official & legal authorization.
l Strict quality control system.
l Sufficient support for our tendering representatives.
l Faster lead time than our competitors.
l Professional Cable solutions to your particular requirements.
l Free sample is available with economic express fee.
l Excellent quality with reasonable price.
l Strong technical support (technical data, drawing, etc.)
FAQ
Q: Are you a factory or trading company?
A : We are a manufacturer. We are professional in developing and producing electrical wires and cables since 2001.
Q: Can I visit your factory?
A :Yes! You are welcome to visit our factory for further detail check.
Our factory is located in Minqing, Fujian. You could choose to fly to Xiamen/Fuzhou International airport. And tell us your flight No., We will arrange to pick you up if you like.
Q: May I buy samples from you?
A: Yes! You are welcome to place sample order to test our superior quality and services.
Q: Can you put my brand name (logo) on these products?
A: Yes! Our factory accepts to print your logo on the products.
Q: May I know the status of my order?
A: Yes .The order information and photos at different production stage of your order will be sent to you and the information will be updated in time.
To receive a quote, further information or advice, Leen Cable invites you to contact us. And if you want to visit to know our production line and manufacturing property, please confirm with us in advance for later arrangement.
PVC Insulated And Sheathed Control Cable
PVC Insulated And Sheathed Control Cable,Flame Retardant Control Cable,Flexible Control Cables,Flexible Shielded PVC Control Cables
Fujian Lien Technology Co.,Ltd , http://www.liencable.com